Welcome to the official ct.js docs!
Learn ct.js, complete tutorials, and contribute to ct.js documentation
Complete tutorials
The best way to learn is by making, and you can create real games with our step-by-step tutorials:
Learn the core library
See additional methods and properties of copies, camera, rooms, and procedurally create tilemaps, backgrounds, and new copies.
Go to ct.js docs →
Notable changes and additions in ct.js v3.0
New room editor, woop-woop! Docs for the room editor was updated — it has a dozen of handy hotkeys. If you have any issues with it, see the migration guide!
There are now more events in the template editor — tutorials have been updated accordingly (thanks to Firecakes!)
Physics2D example was updated and now uses newly added events. Making physics games became much easier!
There are new explanations to ct.js license in the License panel. TL;DR: ct.js is just awesome.
A wild ct.rooms.restart() appears.
Firecakes released a vgui catmod that adds API for making a textbox input!
EhanAhamed updated ct.desktop module, it now has tons of new features and supports both Electron and NW.js runtimes! See its updated docs in ct.js.
Changelog →
Get the cheatsheet
Download the cheatsheet →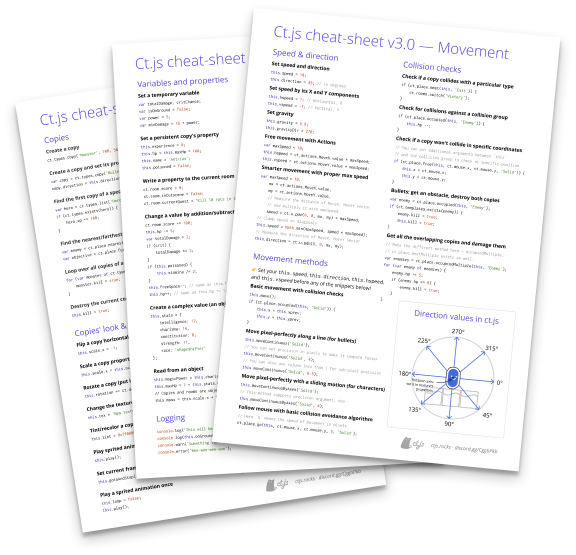 Join the community
Join our Discord server to meet other game developers, receive help, aid others, and share your creations. Alternatively, you can also post on our forum.
Discord Server →
Forum →
Contribute
Set up a dev environment to run a local docs server and use simple Markdown syntax to write new tutorials and send fixes.
You can also edit docs on Github — look for "Propose edits" links at the bottom of each page!
Visit the repo →