Welcome to the official ct.js docs!
Learn ct.js, complete tutorials, and contribute to ct.js documentation
Complete tutorials
The best way to learn is by making, and you can create real games with our step-by-step tutorials:
Learn the core library
See additional methods and properties of copies, camera, rooms, and procedurally create tilemaps, backgrounds, and new copies.
Go to ct.js docs →
Notable additions in ct.js v1.6 and v1.7
Qewer wrote a nice tutorial about making drag-and-drop interactions in your game.
Two dope modules added for spectacular visual effects: ct.light for dynamic lighting system by Comigo and ct.filters with premade visual effects and for adding custom shaders, made by SN. See them in your engine!
Another cool catmod is ct.nakama that integrates ct.js with an open-source online gaming platform Nakama. This one comes with tutorial video series by Alexandar Gyurov!
Oh yeah, there is also ct.matter named after 2D physics engine Matter.js. Shortly, it is time to create Angry Birbs in ct.js!
We added a small list of free gamedev resources to help newcomers with their journey. All the linked resources are free!
Catmods can now group their fields into collapsible sections with a special group input. See live inside ct.light module!
Changelog →
Get the cheatsheet
Download the cheatsheet →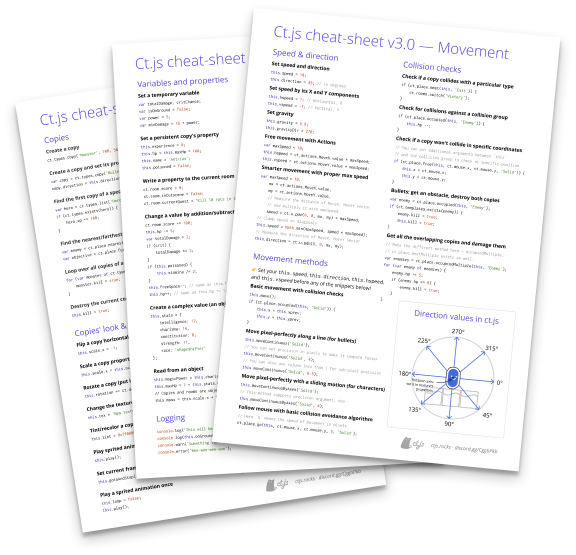 Join the community
Join our Discord server to meet other game developers, receive help, aid others, and share your creations. Alternatively, you can also post on our forum.
Discord Server →
Forum →
Contribute
Set up a dev environment to run a local docs server and use simple Markdown syntax to write new tutorials and send fixes.
You can also edit docs on Github — look for "Propose edits" links at the bottom of each page!
Visit the repo →